Money Laundering & Terrorism Financing.
… process by which illegally obtained funds are given the appearance of having been legitimately obtained…
What is A Suspicious Transaction?
A suspicious transaction will frequently be a transaction which is inconsistent with a customer's known legitimate business activity or with the normal activity associated with that type of account or business.
Grounds or Reasons for Suspicious:
Reactivation of dormant accounts
Large / unusual / frequent cash deposits or withdrawals
Activities inconsistent with customer profile
Large / unusual / frequent inward or outward remittances, And others…
What is Know Your Customer (KYC)
KYC is the gathering of information on individuals and companies (profiling) and on the trend of account activities.
The information required:
background
nature of business
source of funds
area of residency
What is Customer Due Diligence or Enhanced Due Diligence
CDD & EDD is an act to obtain satisfactory evidence and properly establish in its records, the identity and legal evidence of any person or entity applying to do any business with the bank.
Mitigating the Risk of the Bank in dealing with high risk customers and performing Enhanced Due Diligence to ensure that periodic reviews are performed on a pre-set and timely manner.
Coral iSEM Solution Overview
CORAL iSEMTM is a state-of-the-art Anti-Money Laundering (AML) and Anti-Terrorism Financing (ATF) Solution that enables financial institutions (FI) to comply with AML/ATF regulatory requirements. COREL iSEMTM is a highly configurable and intelligent AML/ATF solution with in-built detection mechanism to trace and filter out fraudulent transactions with greater efficiency and clinical accuracy. It is a powerful, multifaceted web-based application which provides Fls with end-toend functionality for AML/ATF monitoring.
Why Choose Coral iSEM
Complete End-To-End solution incorporating all the following features:
Real-Time Messaging Detection

Comprehensive Case Management (STR, CTR, FATCA, High Risk & Sanctioned Alert Management)

Watchlist Filtering & On-Boarding Screening

KYC & Risk Profiling of Customers

CDD & EDD Features

Business Intelligence Tool
Coral iSEM Implementation Overview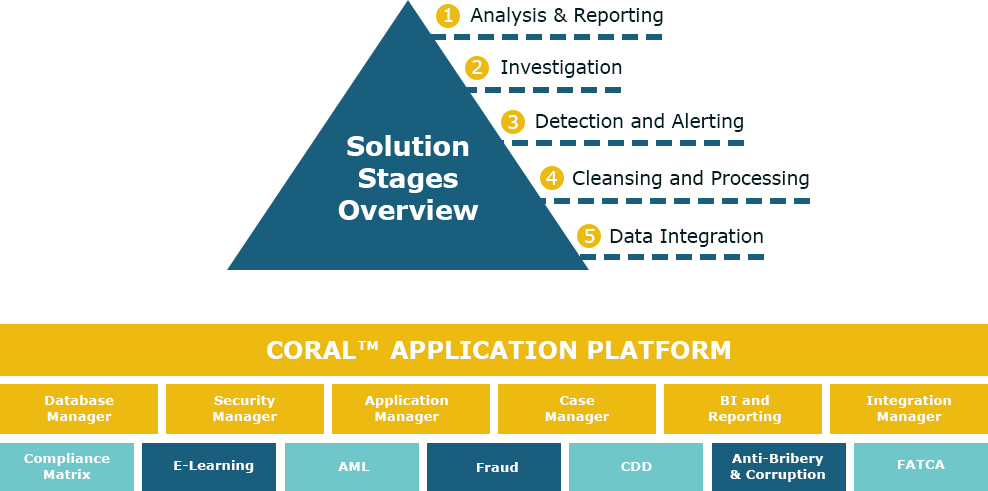 Comprehensive KYC, CDD & EDD
Comprehensive Data Management  of Full Transaction details enable the following cultures in Organization:
Consolidated information of entire Transaction Bank-Wide to ensure that the investigator sees all.
Single access of data to form a Holistic view of details instead of the use of multiple systems.
Historical Information to ensure that past transactions are tracked for complete investigation process.
Agent Aggregator – Swift Integration
Comprehensive Case Management System
Case Management System to suit any organization irrespective of size and maturity that include:
Centralized / De-Centralized Model
Parameterized Case Management Workflow
Manual Case Creation
Case Assigning Capability
Re-Assigning of Cases
Comprehensive Message Screening
Comprehensive Message Screening engine to assist the Bank in performing screening of customers in the following formats:
SWIFT Message Screening.
VCB Messaging
CITAD Messaging
BIDV Messaging
FAST Messaging
FATCA Module
Detailed FATCA Module to incorporate the agreement between the Government of Vietnam and the USA:
Complete Government to Government module (IGI Model 1)
W-8, W-9 & 8966 Form in accordance to the IRS requirements
Indicia Tagging such as Nationality, Place of Birth, Phone No, SSN, TIN and others
Business Intelligence
Business Intelligence to assist Banks with:
Analysis and Statistical Studies of data from all systems
Manage Audits by CBM and Internal by generating reports immediately
Management reports
Visualization capability such as graphs, charts and etc
Trending's that are not detected manually
Total Financial Crime Solution
Complete suite of Financial Crime Solution consisting of:
Anti Money Laundering System
Internal Fraud System
Anti Bribery & Corruption System
Compliance Matrix Module
E-Learning Module
Risk-Based Analysis (RBA)
The ability to tag and rate accordin to risk appetite of the Bank and those set by the regulators such as:
Risk by Type of Profession.
Risk by Geographical Location.
Risk by Sector of Profession.
Risk by Nationality
Product Risk